Getting your products and services to potential customers / clients.
Digital marketing is the promotion of products, brands and services to a potential buyer, client or user. It is simply the use of digital communications and gadgets to "market" or advertise a product or service. While the conventional advertisement of services and products using flyers , banners etc. are referred to as offline marketing , digital marketing is called online marketing because it involves the use of internet and other digital communications gadgets.
These days ,people do spend much time  online and thus online is the best place to advertise and get clients, customers with huge returns on investments.
Flyer adverts, Radio adverts as well as Television adverts do not get the kind of huge returns that Digital Marketing delivers.
Having a good website , good products and services are nice but the truth is that it is not enough . Getting these websites , products and services to the right customers or people that need them is more important.
Lots of people have called and visited us complaining and expressing their displeasures in renewing their websites because they are not making any money or expected amount from the websites.  We often advise them on the need for Search Engine Optimization[SEO] and Digital Marketing. At Sutchelinks will be glad to assist you with your Digital Marketing and SEO needs.
Contact us today for your Digital Marketing services and Digital Market Training.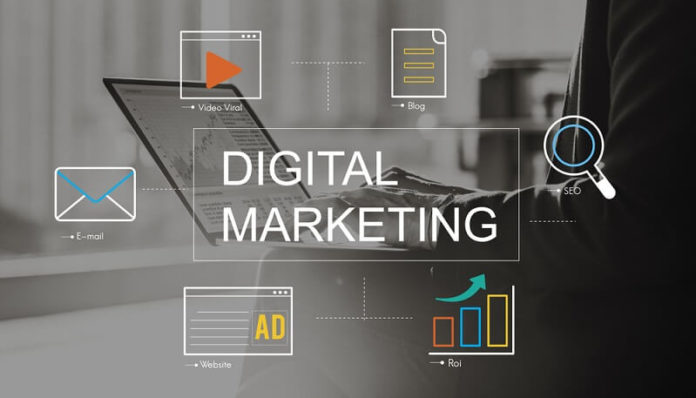 A quick summary of some benefits of Digital Marketing.
Digital Marketing Channels
Search Engine Optimisation
There are 3.5 billion searches on Google daily. Clearly, consumers are turning more to search engines help them take buying decisions. Let's help you manage your search engine optimisation projects so that your brand can feature in your prospect's search. We use relevant keyword research tools, optimized content and analytics to make your brand visible on the web. Let's help you get found online.
Email Marketing
Several research has proven that email marketing still delivers a higher return on investment than any other Digital Marketing medium. We develop, design and implement different Email marketing campaigns for clients in line with their marketing strategy.
E-letter : This is the type of email sent by the Brand's managing director or top executive to the subscribers.
E-zine : This type is usually for editorial for online magazine.
Gauntlet: This is a series of emails sent to subscribers as part of an information sharing series all towards one purpose.
Refresher : This will be targeted towards those who have not been reading sent emails to get them to open them again.
Stand-alone email : Will be used as part of the email marketing effort especially to non-subscribers to drive them to a long-copy landing page or subscription page.
E-newsletter : Will be written as periodic updates in form of articles for brand's email subscribers list.
Social Media Marketing
Your customers and prospects are on Social media. Your brand should be too. We help Clients leverage social media for their business growth by developing, implementing and managing social media marketing campaigns that create awareness, engage with prospects and turn followers into customers.
Our Social Media Services Include:
Social Media Advertising.
Social Media Management.
Social Media Content Development.
Customer/Community Relations.
Looking to leverage Social Media for business growth? Sutchelinks is here to help.
Brand Development
All products need to be developed into brands that gives them a distinct identity in the minds of the customers. At Sutchelinks, we help turn products, companies and people into distinguishable brands with the following services that we offer:
Brand Strategy Development.
Brand Positioning and Key Messaging.
Brand Identity Development Guidelines and Visuals(Logo etc).
Employer Branding.
Marketing Plan Development.
Re branding.
Marketing Strategy.
Lead Generation Projects
Looking to generate leads for your business? We can help. Our lead generation service focuses on identifying your ideal target audience and creating lead magnets to attract them to your business.
Mobile Marketing
Today's consumers are mobile. They connect, engage and entertain themselves through their mobile devices. Let's help you reach your consumers through mobile marketing using various mobile platforms like:
WhatsApp.
Targeted SMS.
Live Chat.
Mobile Apps.
Mobile Only Websites.
In–App Display Adverts.
Google Mobile Platform.
Location Geo targeting.
After call Summary Adverts.
Let's develop and implement a Mobile Marketing Campaign for your brand.